Annapurna was a huge magnificent mountain, it was big and with a lot of surprises , especially of avalanches and crevasses .It was just like reading it on google and books as the most dangerous mountain with the highest death rate..
Initially, the idea was to climb the 'Dutch Ridge' trail a little easier and shorter, but due to changes in the glaciers, the climb was made from the French gorge – as the most dangerous so far.
Acclimatization at this peak has been very difficult due to the fact that the passage from Camp 2/5500 meters to Camp 3/6500 has been impossible to do, because of numerous avalanches in this gorge.
We did the acclimatization up to the camp 2 +200 meters climbing and returning to the Base Camp and so to start towards the attempt to climb the peak . Check out the itinerary of the climb:
Day 1: Camping at Base Camp 2
Day 2: Camp 2 – Camp 3 / about 6 hours, in addition to fatigue in technical climbing, slope and ice, parts combined with rock and ice, and also all the time in fear of which side you are going and what you are doing
Day 3: Camp 3 acclimatization
Day 4: Camp 3 – Camp 4
Day 5: First attempt to climb / return to 7400 m due to lack of ropes
Day 6: After a storm of snow falling for more than 60 cm, even when all our hopes were lost that we would climb the mountain, but thanks to mother earth around 23.00 o'clock we enjoyed some warmth, enjoyed a clear opened sky and this was a sign that our prayers to make it possible to start climbing towards Annapurna Peak, were accepted.
I started walking alone around 12 o'clock at midnight .. (Sherpa with whom we had an agreement to support me during the day of reaching the peak got sick and could not join us) .. but after a few hours, an amazing climber and now my friend Viridiana Alvarez from Mexico and Dendi – Sherpa, joined us and so we continued climbing to the top, fixating the rope and enjoying our climb in good weather, with sunlight.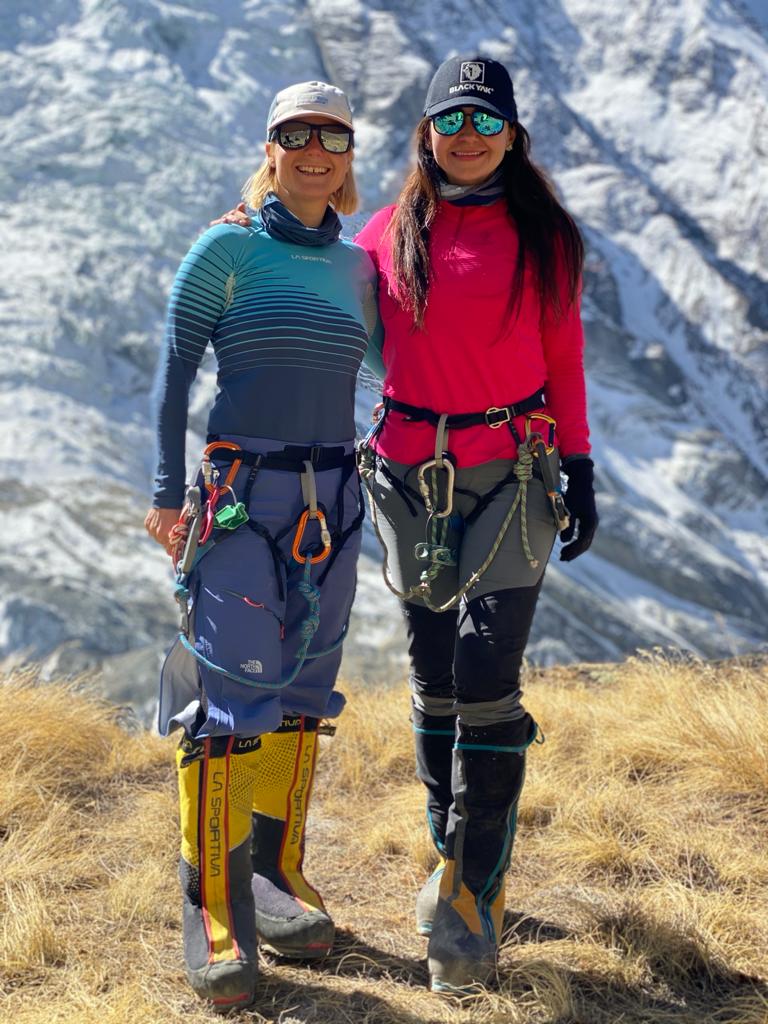 Around 11.00, I reached Annapurna's peak 8091m , and so I waved the flags of my countries , 🇽🇰🇦🇱, as a fulfillment of my greatest desire and contribution to my country ❤️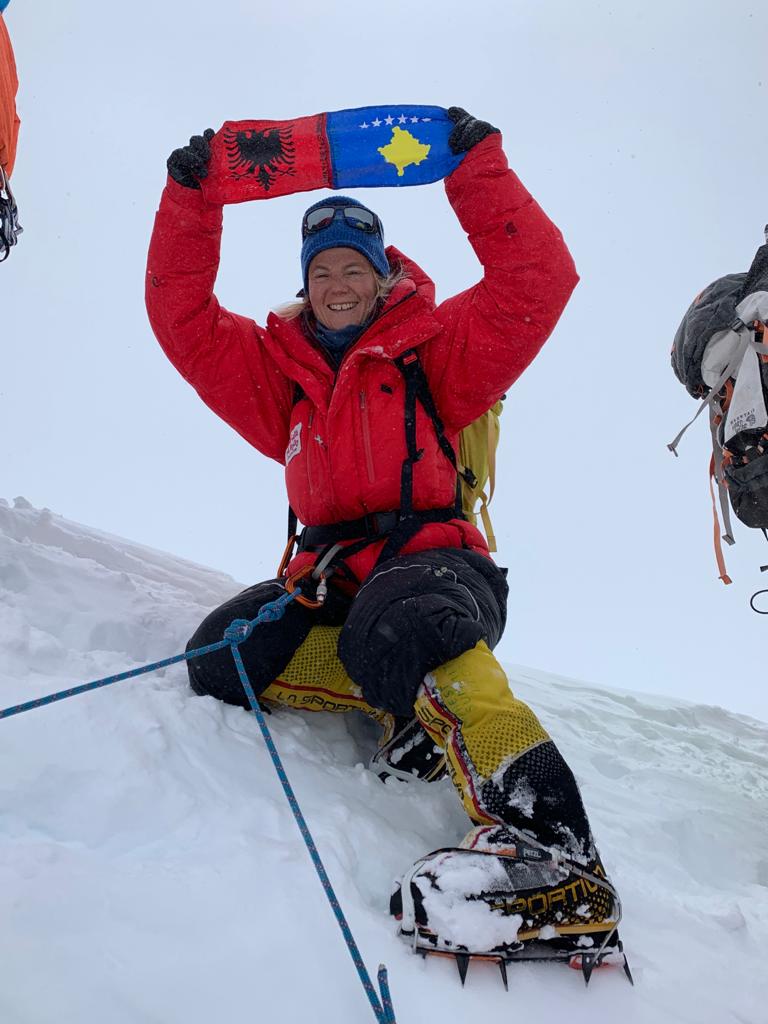 The return was not easy due to the fact that in this expedition I used an Oxygen bottle for 18 hours .. which was not enough … but everything went well.
And finally, on April 18, I arrived at the Basic Camp from Camp 4
Apart from the technical climb, the psychological pressure as the most dangerous mountain, the noises of avalanches all the time, other hardships and one personal worry about my parents who were diagnosed with Covid-19 just on time when I was doing my climb made this expedition very difficult for me, physically, mentally and emotionally.
But after hearing that things have gotten under control and everybody was fine I was more so motivated to climb another peak, Dhaulagiri, conquering it would bring me 7 peaks closer to realizing my 14×8000 project.
We started a campaign to fund me for climbing Dhaulagiri and I would like to thank everyone that was so kind to support me, even if not financially with their good willed wishes and comments.
But while we were campaign at the base camp in Dhaulagiri, I woke up one morning completely  shocked and heartbroken from the news that my father had passed away, while I was miles away.
Many things were passing through my mind, but in the end I accepted that this was my fate, that I was going to lose my father while doing something he always inspired me to do and keep going no matter what, but I bought my return ticket and came back to Kosova, because I was shattered to pieces and couldn't continue an expedition in that state of mind.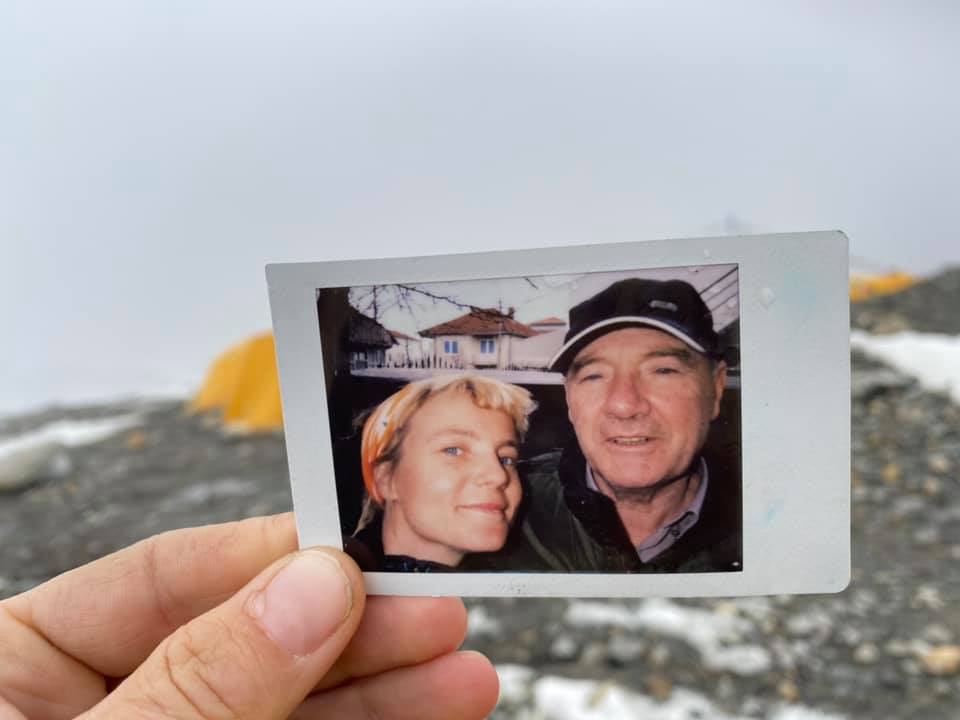 The memory of my father remains eternal and I carry every moment in my sould and heart.