Gasherbrum I, also known as G1, or Hidden Peak 9because you are abl to see only when you get closer to the peak) and sometime they call it K5 (since it is near to K2), is the world's 11th highest mountain in the world, and for me was the 5th from my 8000 meters to climb, which gave me the name of the first female from the Balkans to summit 5X8000, or five of the highest mountains in the world.
My expedition started right after I finish the expedition on Lhotse South Face (7800m), when I had few days of at home to refill my self emotionally and physically … and I felt that this is gonna be easy, especially because: 1. I just finished one of the hardest route on Himalayas, Lhotse South Face .. even if we didn't summit, still reaching Camp 3 was quite challenging and 2. because I felt I am well acclimatised … but, I guess non of them really helped on this climb.
It was my first time on this part of Himalayas, on Karakorum Range. It took us around three day drive from Islamabad, with an 8-day trek over the famous Baltoro Glacier.
Everything was so magical. All the high and sharp peaks and most of them unclimbed, rocky and ice, and very difficult to approach and climb. It looks kind of paradise for mountain climbers.
Base camp is on 5150 meters altitude. Beautiful spot with an amazing view. Most of the time sunny and dry, which made it nice for a god rest.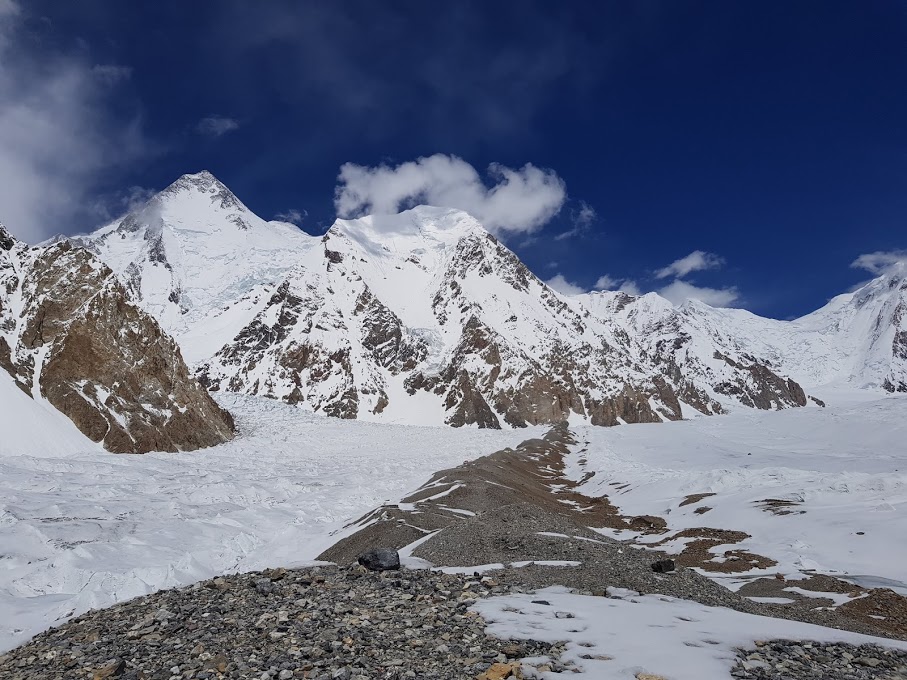 Reaching Camp 1 (5950) from BC, even though not so much to ascent (800 meters) took us quite long. The route is quite long and with a lot of cravases, and not safe to go fast/slow or separate. And because in Pakistan the system of the climb is much different then in Nepal, so we had to climb with partner / porters all the time, since we had to be roped together.



After we reach Camp 1, we had a night there and the other night we went directly to C2 (6400) which looking from C1 looked just there, nice and easy route – which basically was one of the easiest part of the climb and with the best view of G1 and G2.



We spent a night a C2. Windy and snowy .. and the other day we went directly to Base Camp .. which was kind of adventures since the weather was really bad, snow and fog and we could see almost nothing .. but we were lucky since that time the Korean team was also going down, and they were plenty, s we kind of join them.
This was the first and the last rotation.
Normally I would do more rotations, at least 2 and sometimes 3, but since I was also climbing with the turkish team, Tunc Findic, Adem Gul and Gucly, and Tunc is quite experienced climber, so I thought I will do the same …
Some days on base camp, washing clothes, meeting other people, dancing and singing with local people, was more or less all the days on base camp before the summit.



Waiting on base camp before the summit push is kind of hard. You feel you are getting fat of doing nothing … but, this time was quite different since we tun out of food on base camp. All what we had was pasta and sometimes rice.
Anyhow, 8th July we left for summit push, slept in C1 and the other day we reached C2, ad the day after 10th July we reached C3 7300 meters,
Climbing from C2-C3 we climbed the Japanese Culuar, one of the most exposed and technical part, lose snow and rocks, and exposed .. but we were on fixing rope, which made the climb safer.



Sleeping in C3 wasn't so much fun. Here somehow the altitude hit all of us in different ways.
Our initial plan was to leave for summit push the other day, 11th July, since the weather forecast said its gonna be a good weather, but indeed that night was snowing all night and we decided to stay for another night in C3, and leave for summit push the other day. Which was great in a way, we had better rest and I felt I am more ready for the next step.
Beside our team, there have been also other teams there, and it was great to be more. In total we've been 12.
On 12th July, around 6.30 pm we left for the summit push .. what a big day. Ready for the last push.
The trail was most of the time without rope and with the deep snow in the beginning. At 7800 I started to feel weak and dizzy, and cold, I decided to use OXy .. after sometime, I was all alone. Somehow we separated and I didn't even seen any other. Felt so strange and scary, especially because the route was quite exposed and if you fall, you really fall.
Finally, all the team was all together at the last point, since we had to give all the rope that we had to make the fixing, and then the sun came and I felt back in life, again.
We reached the top around 8am, with a good weather just in the first 10 minutes and after that, again the storm came back.
We decided to descent as soon as possible ..



Down climbing was the most terrible part for me. I used OX that was old and it caused me kind of coughing and some problems on my lungs. I wasnt able to breath at all ..
Somehow I managed to go down, after 22 hours of climbing, I reached C3 and I felt so tired and drained.
My initial plan was to go to C1 and rest and to try to climb G2 .. but my lungs were totally bad so, I decided that this is it for this and I started to finish my expedition with this.
I was happy at the end. Even though the summit is not that high but still it was quite demanding, physically and mentally, so G2 will be hopefully for another year in a better condition.
End.