The love to climb this mountain started 2 years ago, while I was helping and working for 'Jordan Women Expedition – RISE' on their training for Everest 2019. Their training started in Khumbu Region, starting from Lukla – Namche – Chukung and then climbing more on Amphu Lapcha Pass, Hinku Valley, Ombigachen Peak 6200m … etc.
Basically, you go all around Ama Dablam. Some mountaineers call this route 'Ama Dablam 0 degree' or 'Ama Dablam 360'. This mountain is known for its beautiful and iconic shape. Some of the mountaineering magazines put Ama Dablam in the first place as the most beautiful mountain in the world.
Seeing Moun Ama Dablam for 3 weeks, almost every day, I started to have the desire to come back only for this mountain.
This year (2018), spring season, while I was climbing Lhotse 8516m, I met Casey Grom. A very experienced climber and guide, all around the world but mainly Mount Rainer and Himalayas. While climbing on the same base camp with Casey, we somehow understood that we can be good climbing partners. This is what I always wanted … to find a strong, experienced partner on climbing.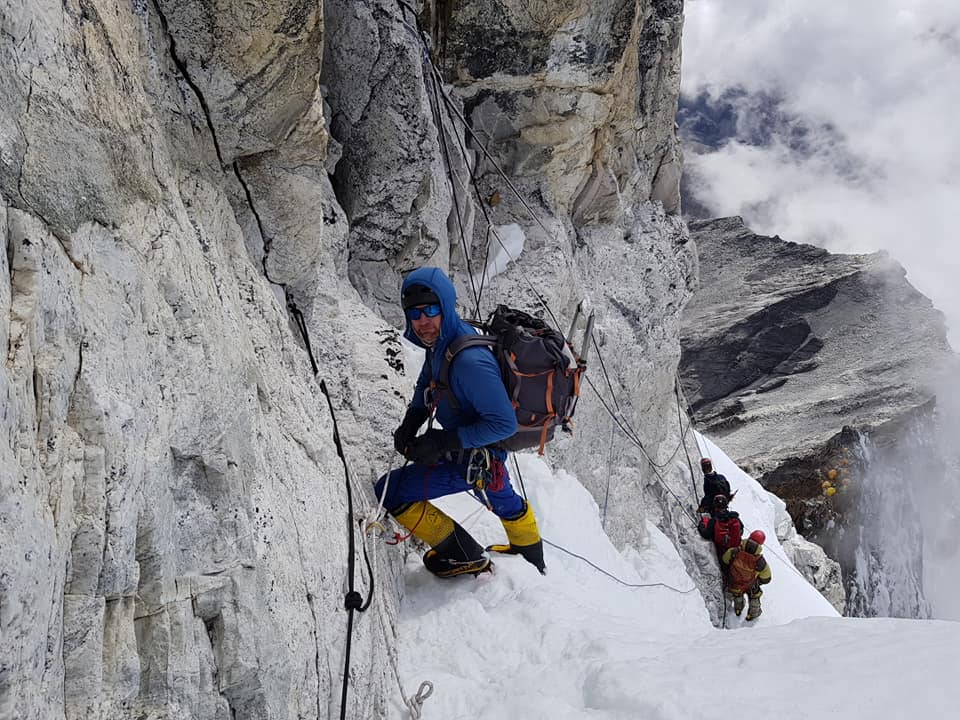 Casey told me that he wanted to climb Ama Dablam in the Autumn of 2018. I was really happy that he invited me to climb with him … so, I could climb and learn so much from him. But, our idea was to climb without any support, only me and Casey.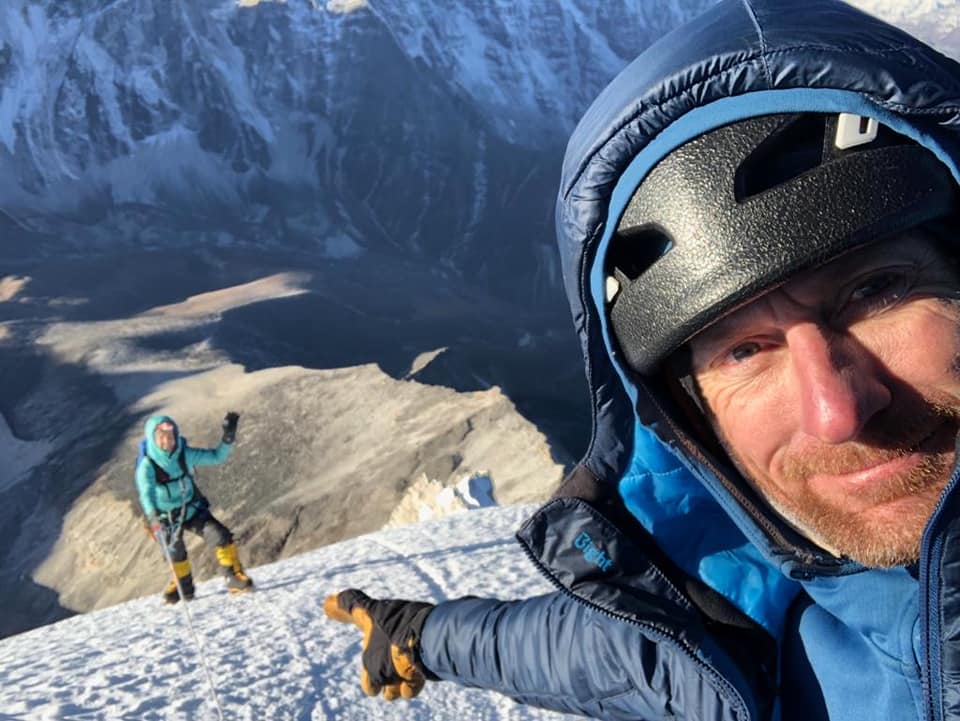 I felt so safe and good, very loving and gentle .. even though the mountain is quite exposed and very dangerous, still for me it was the best feeling so far.
We started the expedition on Labuche Peak and after Island Peak, climbed these two beautiful mountains for the second time (first on 2017). As Casey kept telling me: 'As much as you climb, you get more strong and experienced' … so, even though I thought might get bored, it turned out that I really enjoyed spending more time in Khumbu.
In the end, after we were sure that the rope was fixed, we went to Ama Dablam Base Camp and prepared to start climbing.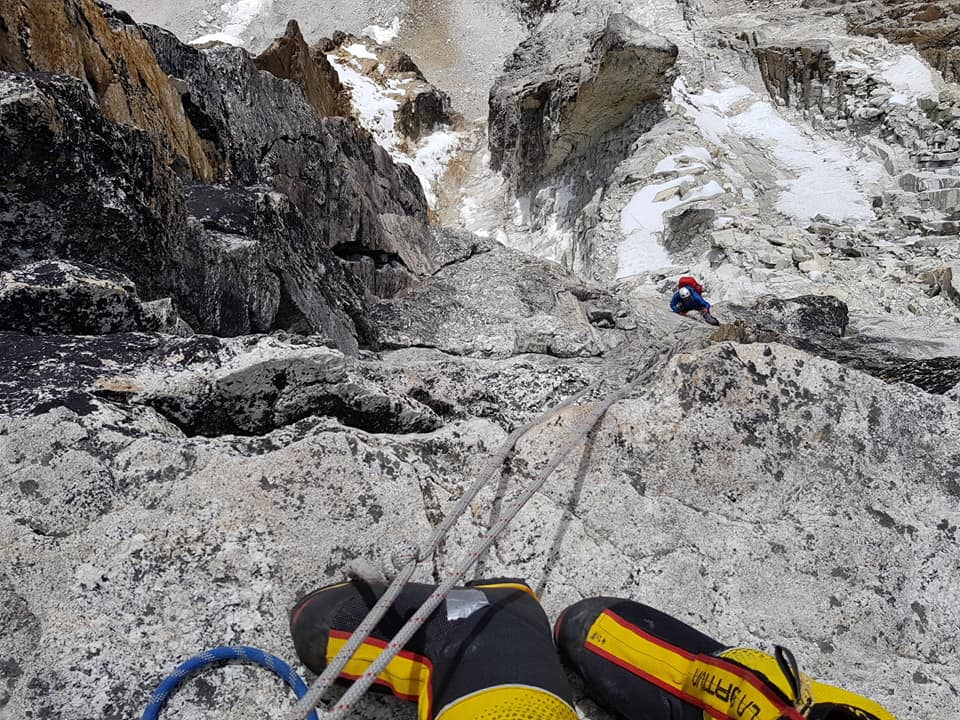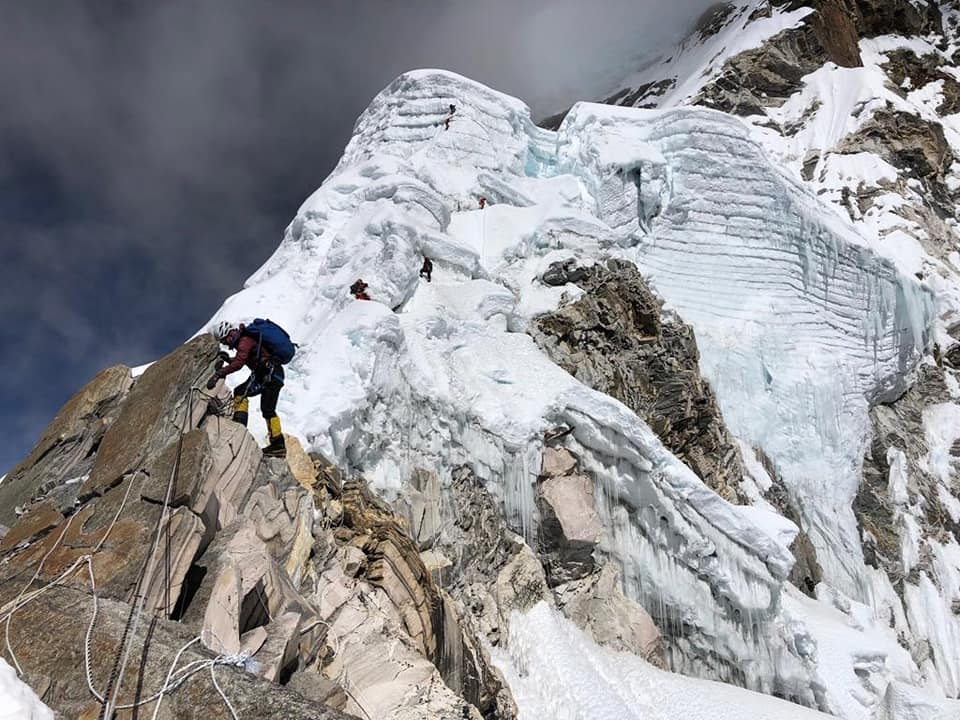 It's different to climb alone, without Sherpa or support. I was lucky to have Casey and I learned so much from him .. but at the same time, it was much harder and challenging than climbing with Sherpa. But, that's what I wanted. And this is what makes me feel, truly happy. After reaching Base Camp, we prepared for the climb. Checked all gears, food, and weather and we made a plan for the summit push.
Day one: We did carry all our gears from Base camp to Camp 1. Besides gears, food, clothes, we also had to carry water since the climate is changing and there is no snow anymore at C1.
Day two; Rest Day on Base Camp.
Day three: Summit Push – Base Camp to Camp one / 1100 meters climbing – 4 hours
Day Four: C1 – C2 / quite technical climb / 300 meters – 3-4 hours
Day five: C2 – Summit of Ama Dablam and back to C1. / 1000 meters climbing – 6 hours and descending at C1.
Day six – Base camp and end of the expedition.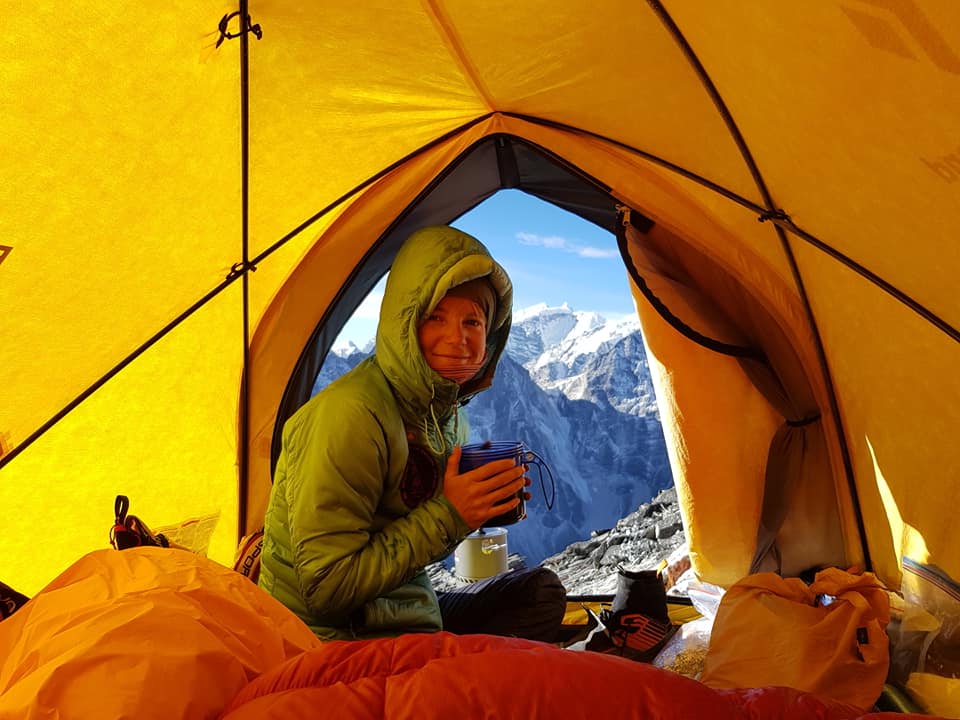 After the climb, we returned all the way down to  Lukla in two days. Every time I finish climbing on the Himalayas when I come back home, I always keep telling people that this was the best, leaving past climbs always the most fulfilling … but, I guess every time, each climb is the best in its own way.
Still, to me, Ama Dablam was my best expedition ever. Not just because of the way we climbed or the view of the mountains, but also because of the energy that this mountain has.
I felt so safe and good, very loving and gentle .. even though the mountain is quite exposed and very dangerous, still for me it was the best feeling so far.