After years of exploring Sharr and months of working, we finally had the Premiere of 'Run for Sharr' a short movie created with lots of love and dedication.
Unique and emotional video testimony of a four-day journey across the Sharr mountain of the world-renowned alpinist Uta Ibrahimi and her team was presented on 23rd November in Kino Armata, at the premiere of the movie "Run for Sharr".
Our emotions are mixed. On one hand, now more than ever we are aware of how much mountains need us, and how much we need to work on protections and preservations. And on the other hand, we are very happy that we joined a passionate crew and to have brought this movie to you in this format.
A wonderful mix of powerful footage made by our camera friends, Igor Jovanovski, Aleksandar Saveski and Valon Demiqi, touching narrative from Shapt Deda, positivity and vibrant energy from our friends runners Ardi, Vullnet, Blerta, Vali, Menda, Abi, Urim, Esin and organizations made by Metod, Tuba and Era – Utalaya Foundation Team.
Footage of rich flora and fauna, numerous water springs and the stunning views from the mountain peaks left the audience in awe, but the sequences of waste, mini-hydropower construction, left everybody with a sense of disappointment. The key message from the premiere was the necessity of more effort that needs to be invested in preserving Sharr Mountain.
To bring this parallel of the beauty and devastation, we want to thank our editor Enis Saraqi, who worked so hard to bring this documentary to this stage. Alexandar Krstevski for the color grading, Valon Dervisholli for the audio post, and Edona for finding the music.
At the premiere, we had a chance to listen to speeches from people and organizations who were part of this project.
"It was an eye-opener for me to learn that around 50 thousand hectares of Sharr Mountain is protected by only 18 employees. Unfortunately, this is the consequence of a lack of financing protected areas. An issue we see in all countries in the Balkans, because environmental protection is still perceived as something that stops development when it's the opposite. WWF works on gathering various stakeholders and with them, we find solutions that enable sustainable development without harming nature. Sustainable management of protected areas is necessary since it provides opportunities for socio-economic development of local communities", said in her opening speech the CEO of WWF Adria Nataša Kalauz.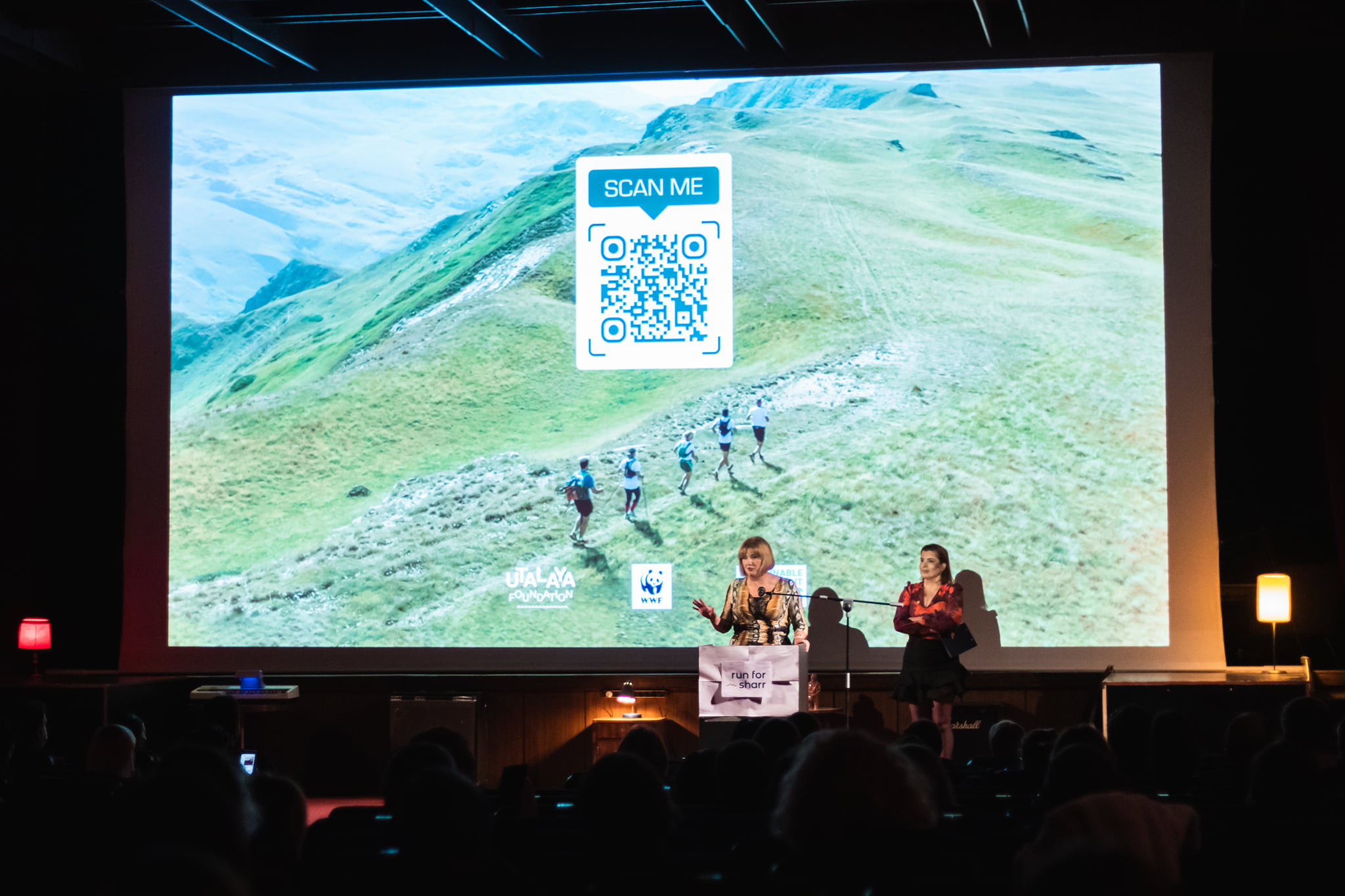 The emotional speech from Uta Ibrahimi, a producer of the movie, gave us a message about how the value of the mountains is not only environmental, but they have an important role in preserving our physical and mental health.
"Sharri is my most favorite mountain. The mountains of SHARR have alienated me, made me a better person, a happier person, more sensitive and stronger. Sharri has helped me achieve great goals in life, such as climbing to the highest peaks of the World. It inspired me to love nature even more and give from myself everything to preserve it. I also call for the preservation of the Sharr Mountains. We must all take care together, we must report and our institutions must condemn the constant crime, not only in the Sharr Mountains but in all our mountains", said Uta Ibrahimi.
The audience was addressed also by the Deputy Minister of the Ministry of Environment, Spatial Planning and Infrastructure Mrs. Linda Çavdarbasha and Mr. Lorik Pustina, Head of UN Development Coordinators office in Kosovo.
The premiere was also accompanied by representatives from the government and various embassies in Kosovo.
Special thanks to all the good-willed managers and directors of local businesses who respond positively to every initiative that tries to inspire change such as :
Green and Protein – For feeding our teams with healthy and delicious food
Foto Gagi – For personalizing the shirts of our runners, team members, and volunteers that joined the event, with the main objective of inspiring people and younger generations for the protection of our natural heritage.
Frutomania – For keeping our teams refreshed during these hot days.
Sporting – For high-quality sports shirts that kept our bodies cool during the sky running
The better travel Co – For transporting our teams and runners for 4 days in a row to different points
N'bjeshke Agroturizem – For offering their rooms and service during our stay on the third day, and making us feel at home
Komiteti Studio – For designing the brand identity of Run for Sharr
She Wine – for the drinks during the premiere.
Run for Sharr was supported by WWF Adria and UN Kosovo – in support and promotion of SDGs.