The UNICEF Office in Kosovo in cooperation with Utalaya Foundation has launched project "URRA", which aims to raise awareness of the importance of engaging children with parents in various activities that promote child development, including reading, interaction, and other activities that help their overall well-being.
The UNICEF Early Childhood Development Program offers scientific studies that scrutinize the importance of early life in children aged 0-6 years. These years represent the crucial time for the development of a child's brain and include breastfeeding and healthy eating, protection and safety, early childhood education, and responsible attention from caregivers. This combination of nature and food lays the foundation for a child's future.
Low socioeconomic status can negatively affect children's development. Considering the poverty rate in Kosovo, which stands at 18% according to the statistics of 2019, we can understand that children in Kosovo need continuous support and programs that enable them a healthy development to reach their full potential.
In addition, in Kosovo parents' awareness of the importance of early childhood development and school preparation is low. Currently, about 14% of children between the ages of 3-5 are attending an early childhood education program.
But this is not the only determining factor for developmental delay. Recently, the fast-paced busy life of adults and the inability to dedicate themselves to children, plus the isolation during the Covid-19 pandemic, and excessive exposure of children to electronic devices, as well as physical inactivity, often impair the cognitive and physical development of children. Therefore, it is very important that parents and teachers or other caretakers are encouraged as much as possible for greater involvement of children in educational and physical (sports) activities. This is also the reason why "URRA" has started its work exactly during this critical period.
The enthusiastic team of "Urra", plans to visit schools, centers, and various groups of children and parents in all municipalities of Kosovo, focusing on visits of vulnerable communities and marginalized groups, which need the most attention, commitment, and dedication.
Via "URRA", the translation of the book "Uta and the Mountains" in Roma and Serbian has been made possible so that children and parents of these minority groups have the opportunity to understand Uta's story of conquering Everest and be inspired by her ambition and determination to achieve any goal you set your mind to.
In addition, the new book "Uta e Maleve-Coloring Book" has been created, also adapted in three languages(Albianian, Roma, Serbian). This book also includes various tasks that encourage children to establish healthy physical and mental routines. The first pages of the coloring book are dedicated to the Covid-19 raising the awareness of children for protection from Covid-19 with simple illustrations and simple guiding text.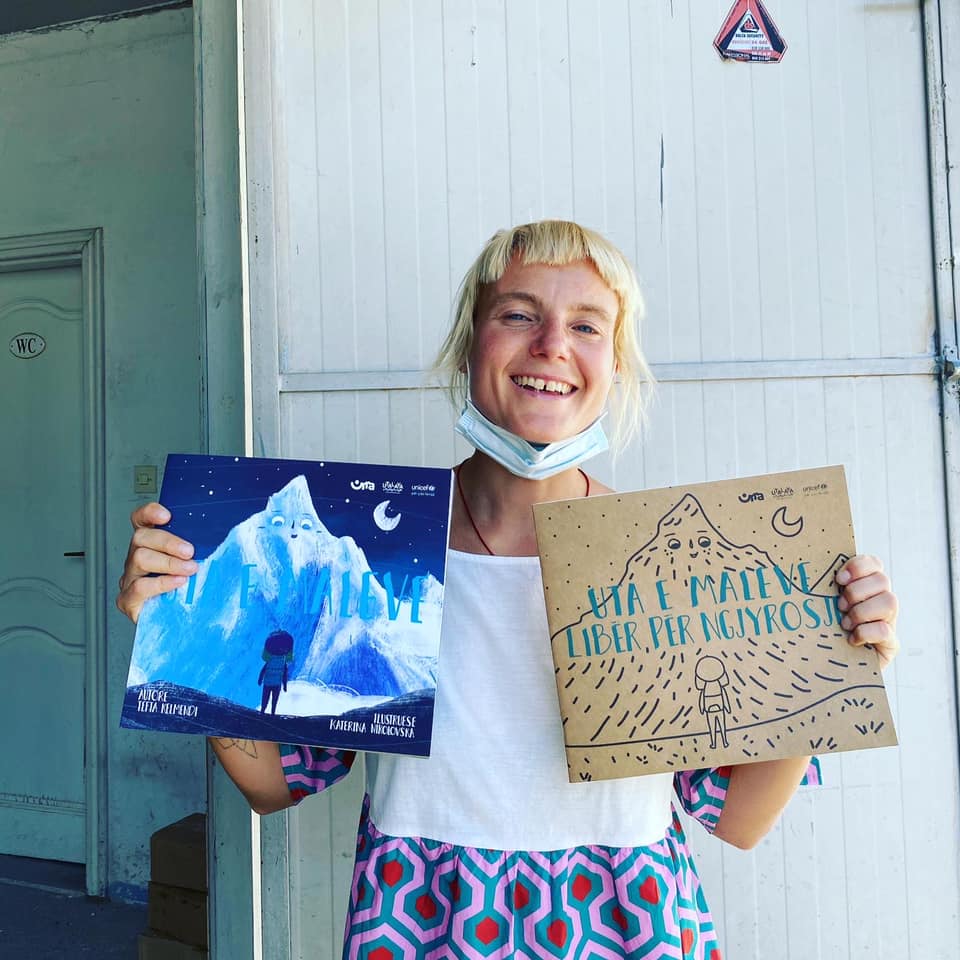 Today, on September 10, this initiative was inaugurated and formalized where Ramë Likaj – Minister of Education and Science was present, who expressed his gratitude for this initiative, emphasizing the importance of early education and the inclusion of the program in the strategies of the Ministry of Science and Education, on which occasion he thanked once again UNICEF for the support provided for the creation of the Distance Education platform which helps parents to carry out daily activities with children. "We are giving examples that every child can be a Uta Ibrahimi or Rita Ora, if we work hard to make their dreams come true', he said.
The Acting Head of the Department for Social and Family Policy – Mr. Mentor Morina was present and he added that these initiatives maximize inclusion by targeting marginalized groups and contributing to social assistance with protective tools from COVID-19, and stressed the importance of supporting families in need in terms of early education and development.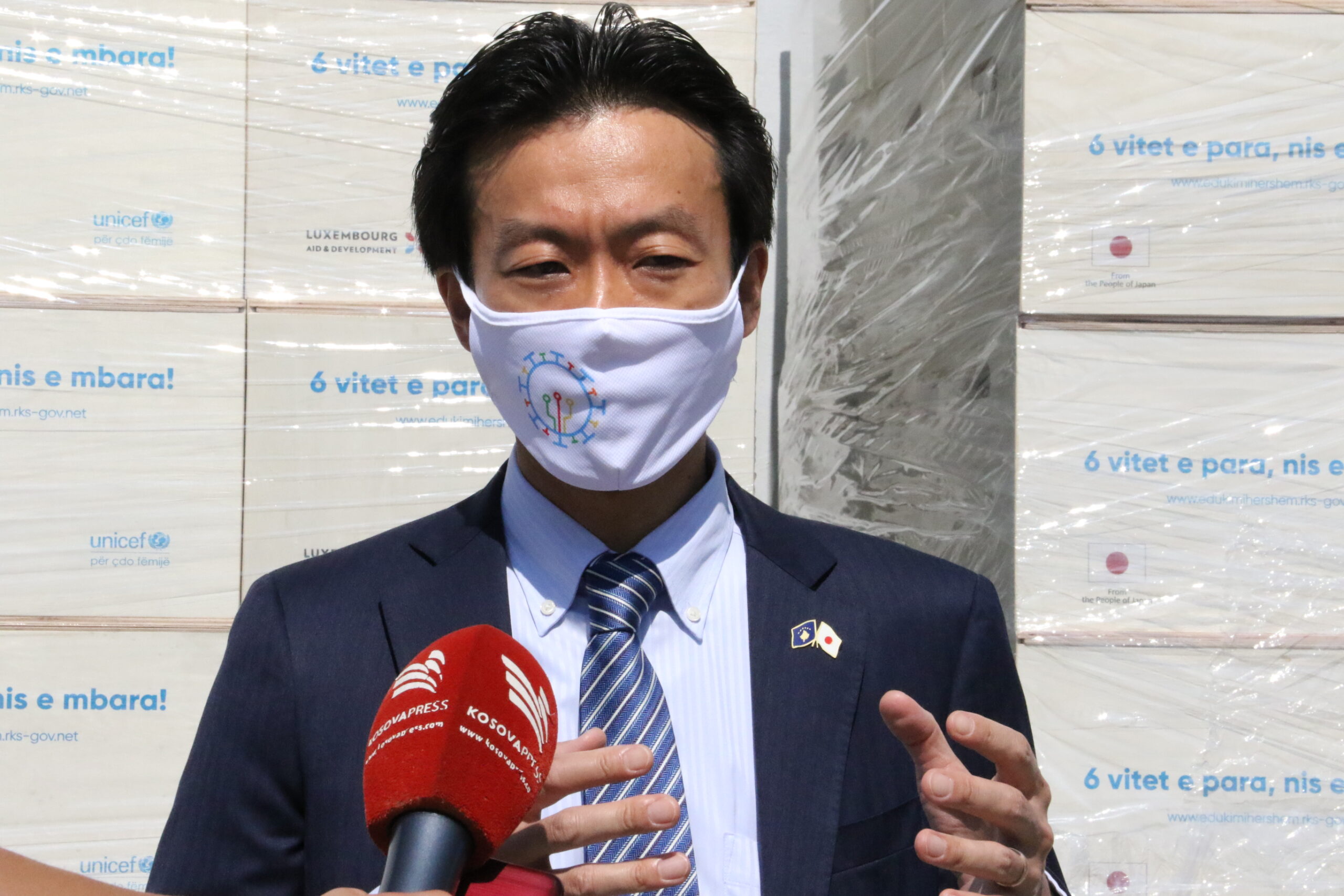 Mr. Mitsunori Ogasawara, Charge d' Affaires ad interim Counsellor, Japan Embassy in Kosovo said that "Education is very important, especially during this time when both, parents and children, are staying mostly indoor because of the pandemic". "The role of the family is increasing, and these materials will help parents to have a more positive and educational approach towards their children, play with them and have a more joyful and happy time together. We are very thankful for the collaboration with UNICEF and the public institutions, and I can't wait to visit the families that will benefit from these packages".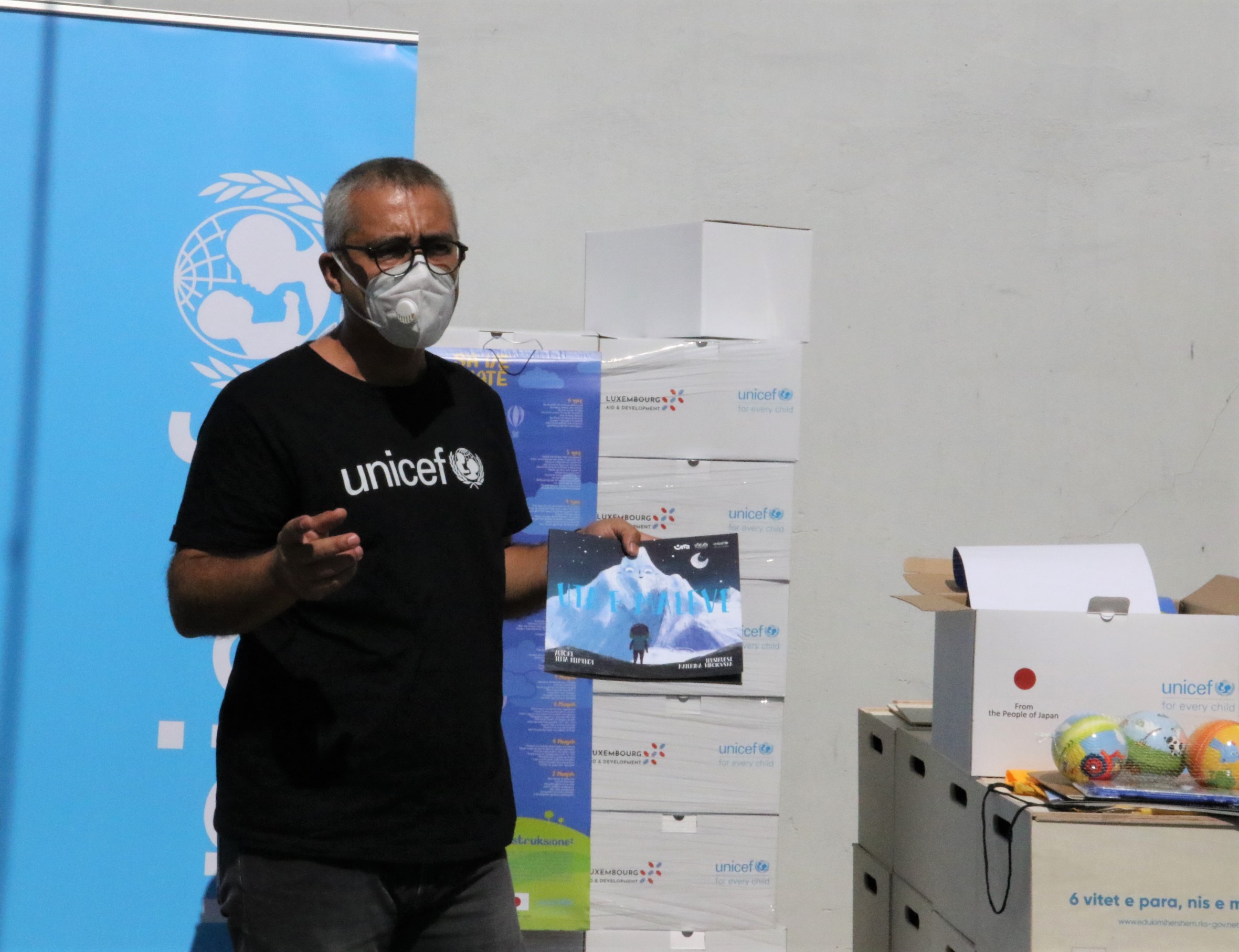 UNICEF's Head of Office in Kosovo, Murat Sahin said: "With UNICEF support, parents, especially fathers, are being provided the simple tips, games and skills to use on better parenting. Parental engagement through storytelling, singing and playing with the child – all critical for a child's brain development- is critical especially during covid19. I am proud to see over 190.000 unique users visiting the online ECD platform over 2.5 million times since its launch".
Şahin, finally added that Uta Ibrahimi this time has changed her plans for expeditions just to be close to the children at this time, and said that her activity is a model that should serve as an example for all children and the main message is "follow your dreams and fight any prejudice".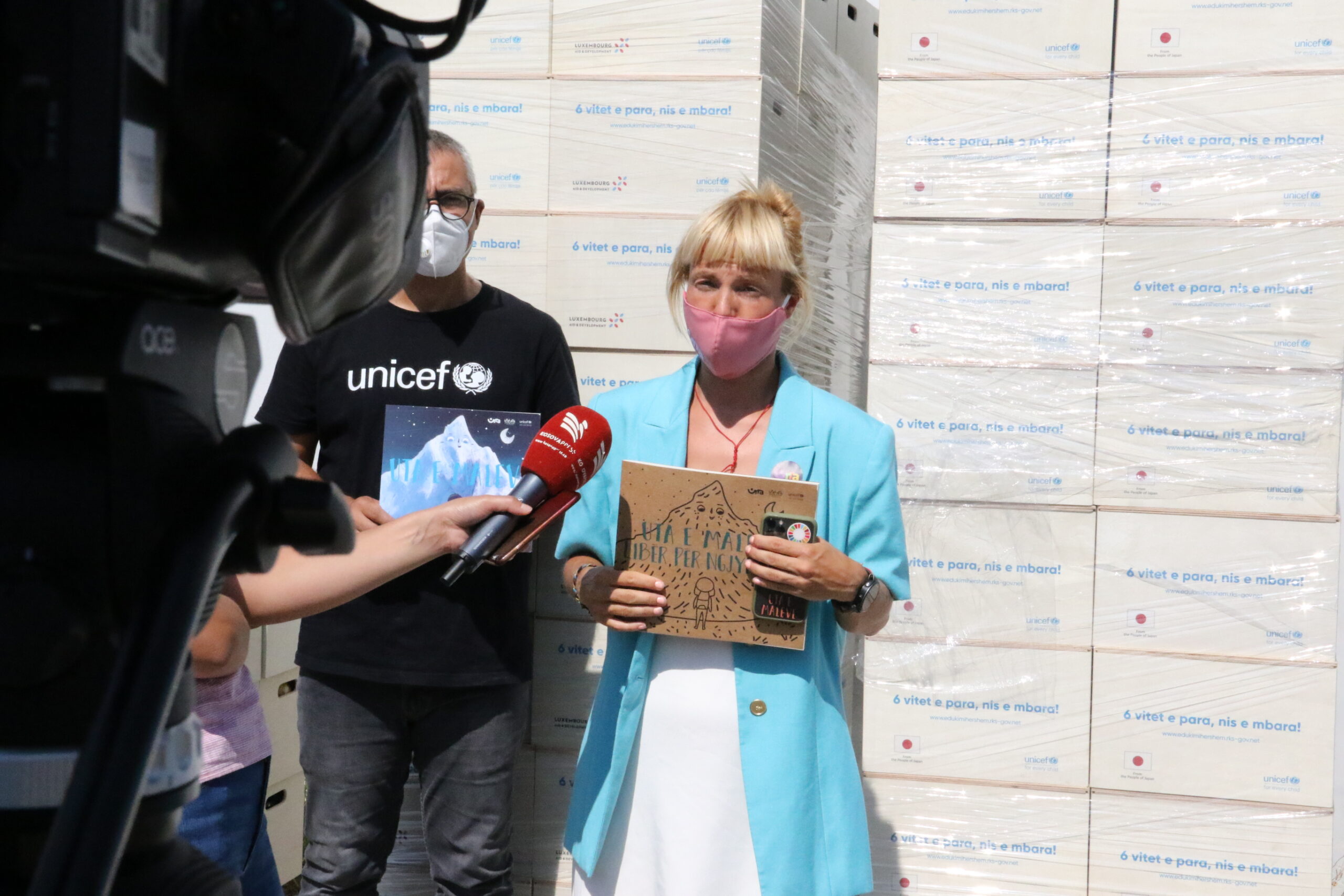 Meanwhile, Uta Ibrahimi said "Today we are marking the most important day of a work that has been ongoing for several months now, in cooperation with UNICEF. Utalaya Foundation is very grateful for the fact that it participates in a humanitarian project that helps development of children and makes them happy, as well as reminds parents that the early moments of childhood are the foundation of a mentally and physically healthy child.
"The greatest joy for me personally is the fact that I will meet children from different communities and they will have the opportunity to be inspired by my story, in the language they speak," says Uta.
Through these books, which will be donated to 5,000 families as part of packages of didactic materials prepared by UNICEF, activities will be held by URRA's team, led by Uta Ibrahimi – the main character of the book.
These activities will include workshops with children and parents, where reading and writing skills, learning, expression of children's thoughts and dreams for the future, creating healthy habits, stimulating children's physical engagement with exercise planning, socialization, education on tolerance, gender, and ethnic equality, are improved.
In conclusion, URRA comes as a loud joyous cheer and invites all parents and children to follow the activities implemented by the project because the benefits are numerous for both parties.
UNICEF also develops other projects with the same purpose, and to access daily activities for your children, visit the Distance Education platform "Developmental Care and Early Childhood Education for ages 0-6".